Don't Drive Without Driver's Friend®
More than just a caffeine boost.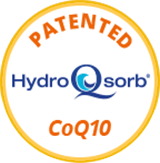 In addition to caffeine, Driver's Friend contains a unique blend of ingredients to help keep you energized and focused:
B-Complex vitamins help release energy from food
Our patented, exclusive HydroQsorb® CoEnzyme Q10 [Coenzyme Q10 is essential for the production of ATP, which is the "energy of life"] provides up to 8 times more absorption of ordinary Coenzyme Q10. There is no other energy shot, drink, supplement or chew in the marketplace that contains this revolutionary, powerful and very beneficial ingredient
Quick Facts...
Mocha Flavored Energy Chews
Convenient grab and go packets
No water needed
Increased alertness, energy, and focus within 30 minutes lasting up to 4-6 hours
Two energy chews = caffeine equivalent to one 8oz. cup of coffee
Lose the cups, cans and plastic bottles! Driver's Friend Energy Chews make it easier to take your energy boost with you wherever you go. Our pocket-size packets keep energy right at hand, and ready when you need it. No water necessary. No spills, leaks or burns!
If you like energy shots, you'll LOVE Driver's Friend!™